UP Clinic Shanghai is a Sino-foreign joint venture chain medical institution. UP Clinic is affiliated to Shanghai UP Clinic Co., Ltd. Committed to the diagnosis and treatment of sports medicine, musculoskeletal rehabilitation, and orthopedics-related diseases; providing professional medical services for sports enthusiasts, orthopedic and post-operative patients. The mission of UP Clinic is "high-quality medical treatment, high-quality rehabilitation".
UP Clinic employs foreign doctors and therapists from the United States, the Netherlands, Japan and other places, and cooperates with high-level doctors in Shanghai, Taiwan and Hong Kong to provide spine and joint disease patients, sports injury patients, postoperative patients, joint disease patients and sub-healthy people. High-quality medical services in Chinese and English.
The sports rehabilitation team at UP Clinic has developed long-term cooperation with many professional sports clubs, teams and training bases to provide professional athletes with the most professional sports rehabilitation treatment in China and around the world. Therefore, UP Clinic is also good at providing medical services such as injury treatment, sports recovery, and sports performance improvement for sports enthusiasts, daily fitness, young athletes and other groups.
UP Clinic is a founding member of the Sports Rehabilitation Industry Alliance and a member of China Association of Non-Public Medical Institutions. It is also a medical support team for important events such as "Hai Ma", "ATP Tennis Masters", "IAAF Golden League" and other important events in China and Shanghai. 
Specialties: orthopedics, rehabilitation medicine, sports medicine, imaging, pharmacy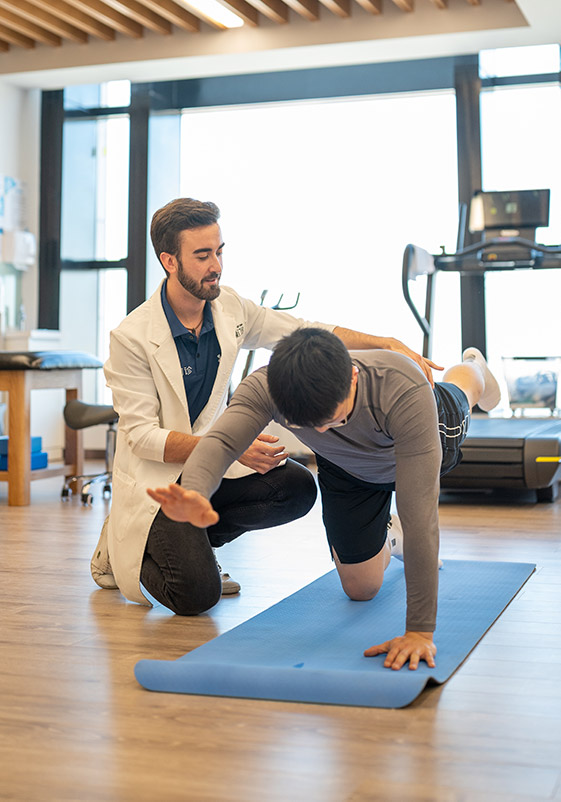 1. Orthopedics: joint aging and degeneration, joint inflammation, articular cartilage wear, osteoporosis or bone loss, senile osteoporosis, limb fractures and joint dislocations, cervical and lumbar spine diseases, intervertebral disc herniation, compression fractures. 
2. Rehabilitation: neck and shoulder pain, low back pain, low back pain, postoperative skeletal muscle rehabilitation, postpartum rehabilitation, scoliosis, poor physical strength, motor dysfunction, chronic sports injury.
3. Sports medicine: meniscus injury, cruciate ligament injury, collateral ligament injury, rotator cuff injury, shoulder joint instability, shoulder joint adhesion, cartilage injury, tendon injury, joint synovial inflammation, ankle sprain, Achilles tendon tear