Welcome to UP Clinic Shanghai
UP Clinic is an orthopedics and rehabilitation center that specializes in the evaluation and treatment of all muscle, bone, joint, spine, and sports-related injuries. The international team of experts focuses on providing conservative and non-surgical solutions, so that patients recover faster and as pain-free as possible.
INTERNATIONAL STANDARD & EXPERTS
International team and a state-of-art acility provides patients with the highest level of care.
NON-SURGICAL APPROACH FIRST
Conservative treatments are, in many cases, more effective than highly-priced surgical approaches.
NO EXCESSIVE EXAMINATION
Unnecessary examinations lead to over treatment, misdiagnosis, and high costs.
STRAIGHTFORWARD PRICING
UP Clinic has clear, upfront pricing and no pharmacy markups.
HASSLE-FREE
Multiple convenient, central locations and quick appointment scheduling.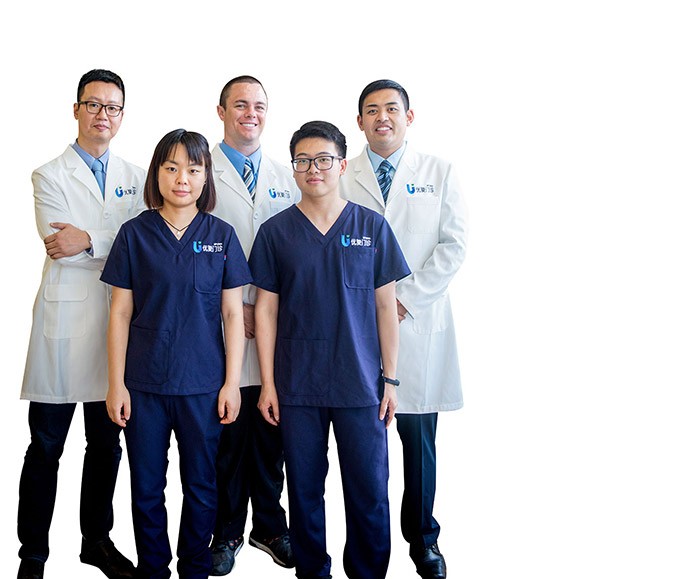 Medical Services Shanghai
From initial orthopedic assessment, expert consultation to physiotherapy and chiropractic, UP Clinic provides one-stop services for your convenience.

Orthopedics
Joint degenerative disease, arthritis, cartilage injury, osteoporosis or osteopenia, limb fractures and joint dislocation, cervical lumbar vertebrae disease, intervertebral disc protrusion, compression fracture
Learn More >>

Physiotherapy
Neck pain, back pain, musculoskeletal injury, post-op rehab, post-partum rehab, scoliosis, joint mal-alignment, sports injury, chronic pain
Learn More >>

Sports Medicine
Meniscus injury, cruciate/collateral ligament injury (ACL,MCL,PCL,LCL) , Shoulder Rotator cuff injury, Shoulder instability, frozen shoulder, cartilage injury, tendinitis, synovitis, ankle sprain, Achilles tendon tear
Learn More >>