Sports medicine is the science that integrates medicine and sports. The goal is to use improve the health and performance of athletes and the active population.
UP Clinic Shanghai with both international health care professionals and experts from first-class hospitals in Shanghai, combes evidence-based best practice and patient-centered care to provide the top medical services for patient who are suffering from sports injury.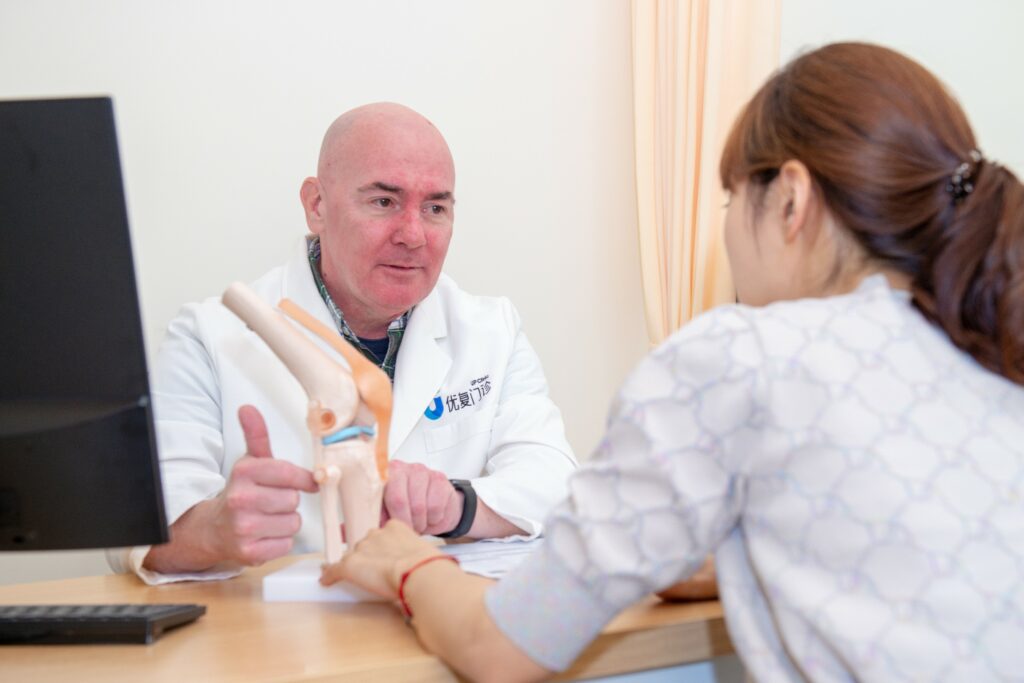 What are sports injuries?
Sports injury includes injuries in professional sports, leisure sports, and accidental injuries in activities of daily living. Common sports injuries include ligament sprains and tears, cartilage damage, Muscle strain, Fractures and more.
The specific joints include: knee, shoulder, ankle, elbow, hip and other joint injuries and joint pathologies like articular cartilage injury, intra-articular loose body, meniscus injury, cruciate ligament injury, patellofemoral pain, rotator cuff Tear, instability of shoulder joint, dislocations, arthritis, shoulder impingement, SLAP injury, instability and pain of ankle joint, elbow joint disease, etc., as well as muscle and tendon injuries of the whole body, etc.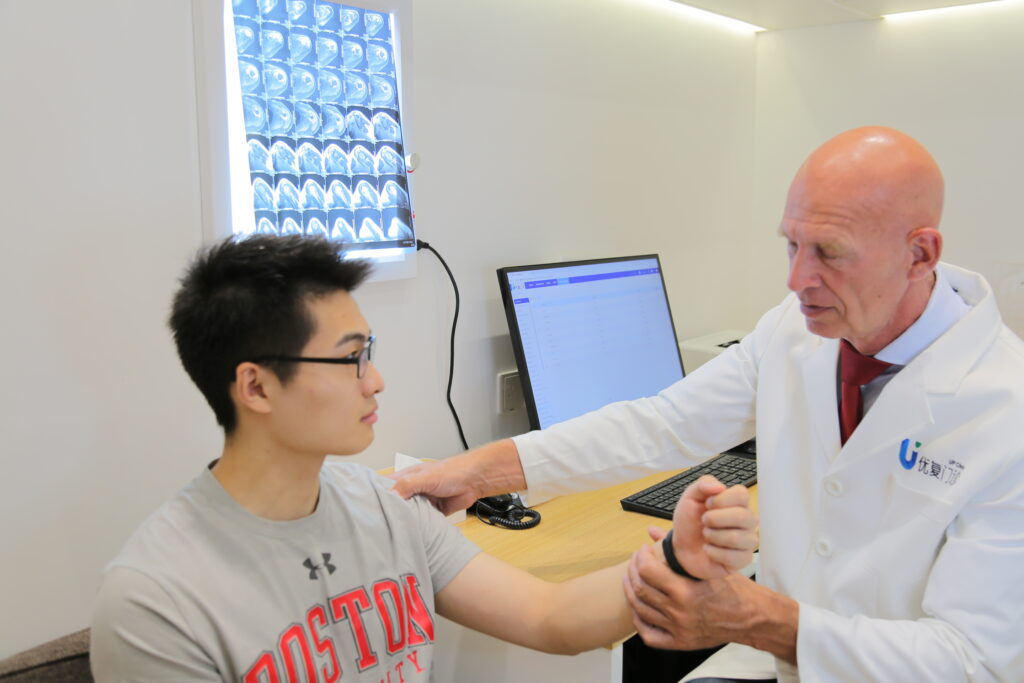 Evaluation Tools in Sports Medicine
Sports medicine is similar to orthopedics; X-ray, CT scan, MRI, and diagnostic ultrasound are commonly used for the diagnosis of different conditions. For example, X-ray and CT are better at diagnosing bone-related pathologies. However, MRI can make soft tissues and intervertebral discs visible, and diagnostic ultrasound is the most convenient at diagnosing soft tissue damage, for example, a ligament injury.
At UP Clinic, sports medicine doctors can take advantage of the diagnostic ultrasound and make an immediate diagnosis for our patients, or arrange x-ray, CT, or MRI scans as needed by our customer service team.
How to treat sports medicine injuries?
With regards to different conditions, sports medicine doctors have a variety of interventions to choose from. Common interventions include physical therapy for common muscular conditions, bracing for immobilization or joint stability, joint injection for anti-inflammation purposes, manual reduction for joint dislocation or fractures, microscopic surgery for structural damages.
At UP Clinic, our sports medicine doctors follow evidence-based clinical best practice, prioritizing physical therapy or arthroscopic surgery in patients' best interest. Our sports medicine doctors put emphasis on coordination with our physical therapist in order to plan, carry out the treatment, and follow up with our patients. All services are accessible all in one stop.